Golf Course Maintenance Products
IVI-GOLF manufactures, distributes, and sells high-performance products for the maintenance professional. Focused primarily on bunker management products, IVI-GOLF entered the golf course market in 1997, with its well-known product line of Sandtrapper bunker liners.
Our Featured Products
Since 1997, The Sandtrapper product line has been installed at over 8,000 facilites worldwide with over 80,000,000 square feet. Also a part of the IVI-GOLF line-up is Flexxcape Seamless Liner, PermaEdge Bunker System, and our Turf Shield Turf Covers.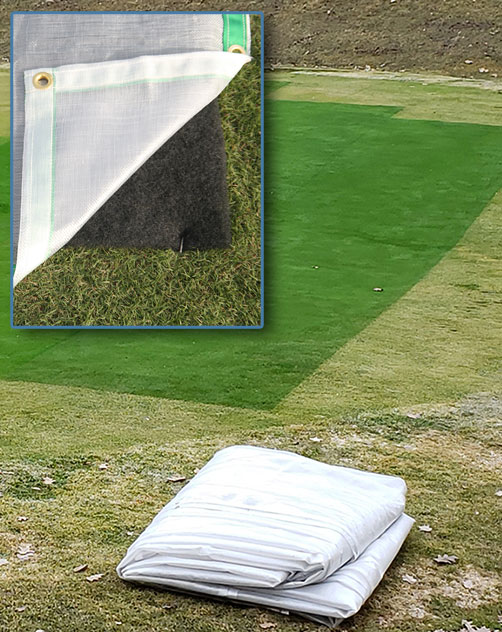 Turf Shield Turf Covers
Turf Shield® is simply the easiest, most affordable protection from winter's effects you can give your critical areas. It's also a real asset for grow-in stage during new construction or renovation projects.
Woven from durable, translucent polyethylene, Turf Shield creates a thin, protective layer that acts as a small greenhouse, allowing the turf to breathe and retain its moisture while letting sunlight through..
GREAT PRODUCT OPTIONS
Turf Shield Turf Covers give facilities solid options for protection. Depending on the site requirements, Turf Shield covers are available as the base cover and the "Arctic" version which includes an additional termal layer. Designed around flexibility, these covers available in stock sizes and can be ordered with upgrade options and custom sizes.
PREVENT WINTER DAMAGE
The effects of cold and freezing weather can be damaging to your prized greens and tees. Not just for predictable northern climates, the occasional freezes and frosts deep into southern areas can, and will, damage these high investment areas.
GET THE PRODUCT INFOSHEET
Facts & Figures
IVI-GOLF is a Division of Indian Valley Industries, Inc.. Begun in 1940 as a burlap bag manufacturer, Indian Valley has grown into a multi-divisional company that serves a wide range of industries, including heavy construction, petroleum, painting/blasting, marine construction, and golf. Our product focus is environmental protection. For 80 years, Indian Valley has delivered quality and service with a vertically integrated product line. When our customers face challenges, we deliver.
12,551
CUSTOMERS
34
COUNTRIES
1,204
PRODUCTS
80
YEARS IN BUSINESS